We've Been Getting Lit!!
And I mean with CHRISTMAS LIGHTS. We've laid off the Costco Wine and moved on to eggnog so this might get a little interesting...
In other news, if you're planning on bringing Pea Casserole to Christmas... you've got time to figure out something else to bring. If no one's touched it for the past five years, it's safe to say it's time to try something new. This is your sign. 
Also...If your Spotify Wrapped Playlist (Apple Music Rundown if you're one of those) didn't include George Strait... are you even a Texan?!
If you're still shopping for Christmas gifts.. this is your friendly reminder that if you want to get your gifts before Christmas, you better be ordering yesterday.
Looking for Christmas Festivities around the state? Look no Further. We've curated a list of fun activities just for you.
Still looking for the perfect gift for Aunt Betty? We've got items $25 and under, $15 and under, $10 and under in our Come and Steal It Sale. 
Whoops. Speed Bump. 
Here's a curated list of this weeks humor. Picked just for you.
(By the way, this is a visual representation of us avoiding putting up our Christmas lights.)
Click here to see how our lights turned out this year, I'd give it a 12/10 for 2020. Also, if you kept up with the Coco Gutiar Thief... I'd love to share this video of my daughter with her upgraded electric guitar that didn't get stolen. 
_
This masked intruder made his way through a Texas High School this week and this video takes the cake. 
Speaking of Raccoons, this is what Californians call a burglary. Smh. 
If you haven't seen this Peggy Hill TikTok... WYD? It Made. My. Night.
If you're like me... you love a good fight. This one is the best one I've ever seen. Watch this rake take the drone down. YES, I said rake.
Looking to make some easy cash? This company is willing to pay you $5k to make cookies with one weird ingredient. I think my grandma does this already so if you see me next week looking a little extra you know why. 
In Canadian news, this man got pulled over for using a lawn chair as a driver's seat... I'm just saying, Texas forever.
If you're bored and looking for a TikTok to make you laugh and you enjoy seeing a big hairy belly... I've got you covered.
This Texas College wanted in on the Monolith fun so they welded one themselves. Yeehaw.
If you're wondering how you rank in your region of Good Ole' Texas... give this video a watch. You'll be happy you did.
If you're wondering why Oklahoma even exists... so are we. 
Even Elmo is out here giving Texan drivers a little bit of advice on HOW TO DRIVE. Yes, we're talking to you.
Need Some Holiday Festivities in Your Life? We've Got You Covered.
Texan to a Texan: You might have to start planning now. With limited capacity, reservations are filling up this
Holiday Season
. See our WHOLE BLOG with even more festivities
here
. (Yes, this is the short list.)
Austin Area: 
Trail of Lights: Starting at $35 per car. Returning to Zilker park as a drive-through event this year! Get your tickets here.
Zach Theater: Starting at $77 per group. Seasonal offerings such as 'A Rockin' Holiday Concert' are happening but tickets are selling out. Get yours here.
Mozart's Coffee Christmas Light Show: Starting at $10 a table. If you love coffee, hanging out with friends, and watching a light show... this one's for you.
Dallas Area: 
Holiday at the Arboretum:  Prices starting at $12/kids, $17/adults. Open daily from 9am-5pm through Dec. 31. Holiday at the Arboretum features the 12 Days of Christmas and The Christmas Village. Stroll the garden to see the 25-foot-tall elaborately decorated Victorian-style gazebos that represent each of The 12 Days of Christmas, presented by Reliant.
Dallas Zoo Lights Drive Through: 
Starting at $50-$60. The Dallas Zoo's beloved holiday tradition returns, with a socially distant twist! Cruise through a newly constructed pathway – and through familiar parts of the Dallas Zoo – while marveling at more than one million lights in elaborate displays, silk-covered animal lanterns depicting all your Zoo favorites, an ice palace fit for a trio of penguins, and so much more along the way!
Houston Area: 
Moody Gardens Christmas Lights: Packages starting as low as $14. Tour the festival of lights, watch Rudolph in 4D, slide down the Arctic Slide, watch other holiday 3D films, ride on trains through the lights trail, hop on an evening cruise, and even have breakfast with Santa. 
CityPlace Gingerbread Village: FREE. Experience a super-sized, fantasy version of the holiday classic. 
San Antonio Area: 
Walk around the San Antonio Riverwalk. FREE Visiting the River Walk to enjoy the spectacular holidays lights is free. The River Walk is a public park and is open every day of the year, 24 hours a day. 
Ford Boat Caroling. ~$125 Sing in the holidays by Caroling with friends and family from a boat on the River Walk. Celebrate the timeless tradition of spreading joy with a San Antonio twist. The public is encouraged to enjoy the caroling for free from the banks of the river or while seated on a restaurant patio. Experience the founds of the season as caroling boats float along the river in the downtown area. See the caroling route map posted in the photo gallery here. Boats randomly stop at restaurants.  
Kayaking on the Riverwalk. Prices Vary. New this year. Advanced reservations required. This is not a guided tour but available 8-11am on weekends Dec. 4-31. This is an easy 3.5 mile flat-water kayak trip great for beginners and families along the world-famous San Antonio River Walk through the Downtown Business District. 
West Texas Area:
Big Spring's Comanche Trail of Lights: 
FREE (donations appreciated.) The Comanche Trail Festival of Lights boasts over a million lights on display in the Comanche Trail Park in Big Spring. Don't forget to visit the gift shop and mark your calendars for Santa's visits to the festival. Open now until December 25th from 6-10pm every night.  
Everywhere Else: 
The Christmas Wine Affair. $45/individual or $65/couple. Tickets available now through December 20th. Tickets include a full complimentary tasting at all 45 participating wineries with a limit of 4 wineries a day and a 15% discount on 3 bottle purchases at each winery.
Giddings Drive Through Nativity:  FREE. December 16-19 from 6-9pm. Free drive through with live animals including donkeys, sheep, cows, and a camel. GET THIS. All vehicles will be registered to win a steer including butchering.
Virtual Finds: 
Santa Storytime Series: FREE. Every Friday through Dec. 25. Join Brown Books Publishing Group for a virtual storytime series with Santa Claus. Each week we'll read a different holiday tale, and share in the the holiday spirit. Perfect for children of all ages.
51st LBJ Annual Tree Lighting: FREE. Sunday, Dec. 20th. Join the Texas Hill Country community in this special tradition started more than 50 years ago by President and Mrs. Johnson.  Enjoy carolers, a live nativity, Santa Claus, refreshments and, of course, the tree lighting. Then revisit the past at the Sauer-Beckmann Living History Farm. 
Watch Houston's production of the Christmas Carol daily 
here
: FREE but donations are accepted. 
Want to read more? Find our full Christmas Blog HERE.
We've Saved the Best For Last
A TEXAS HUMOR CROSSWORD PUZZLE. YOU READ THAT RIGHT. 
Download it to print, or fill out online on our blog here.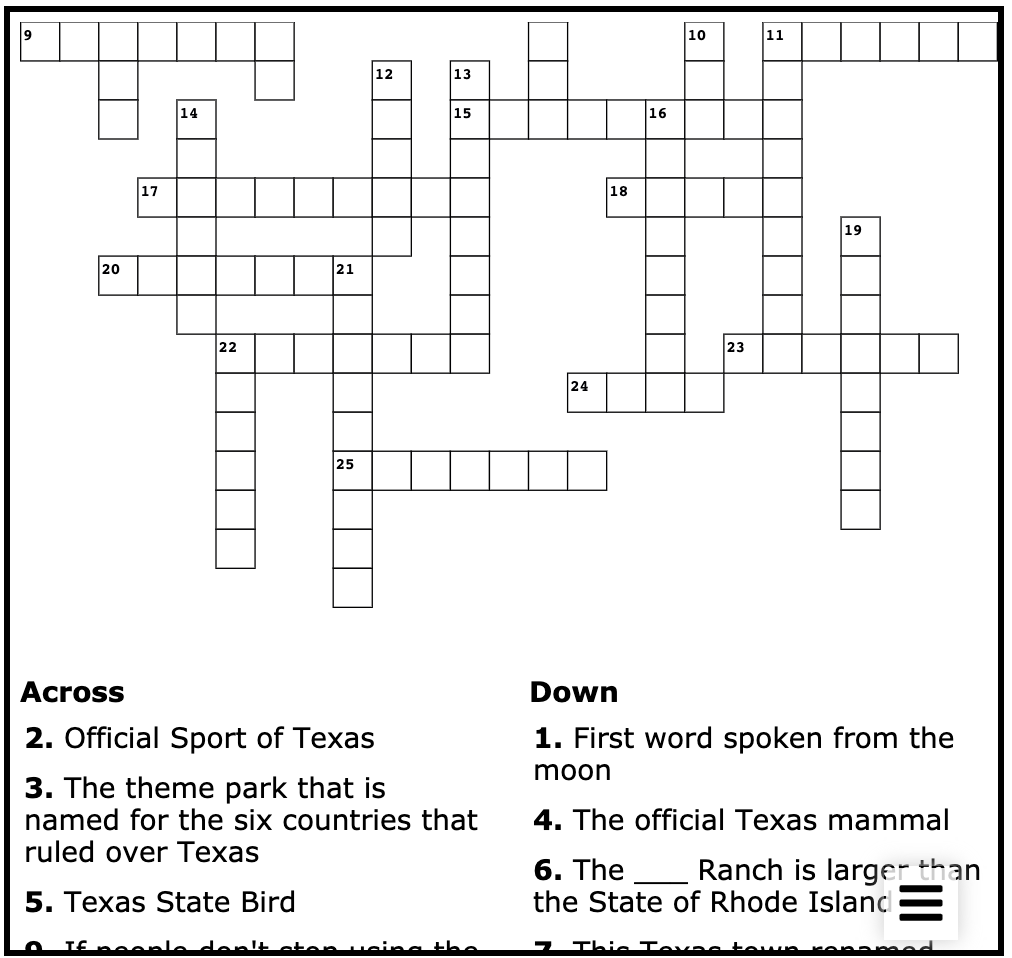 Until Next Week...
Catch ya' in next week's recap. Until then, have a great week and an even better weekend.