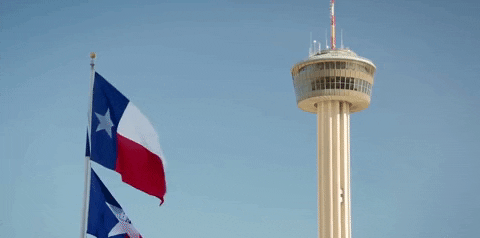 Howdy & Happy San Jacinto Day!
What is it you ask? San Jacinto was the final battle of the Texas Revolution where Texas won its independence from Mexico.
As always, welcome back to the Texas Connection. Grab your cup of coffee (or whatever suits your fancy) and read this week's interesting finds from your Pals at Texas Humor. 
Want to share the newsletter with your friends? Send them this link.

Howdy, friends! Here's your news updates for this week:
In Your Neck of the Woods: 
Weird Finds:
The Furry Friend Weeklies: 
Until next week... stay newsy my friends.


Howdy y'all!
It's a wonderful day for all my Plano area folks, because do I have a spot for you. I stumbled upon this place as a recommendation from one of our followers. Unfortunately, I cannot remember their handle, but hopefully they will see this and know it was them who brought this restaurant to my attention.
This week we are talking about Winners BBQ in Plano, TX! Y'all they got the name right because this place is a 100%, A+, win! They have your standard BBQ menu, but something that I could not try and I wish I did was the GOAT Baked Potato. This is what they are known for. The GOAT Baked Potato features every meat they have on the menu and every topping they have for their baked potato. This behemoth looked delicious, but I didn't want to dive right into the specials. I wanted to taste their basic stuff and see how it is. Because if you can't do the basics, you're doing it wrong. That's why I got the three plate combo (which comes with your choice of meats, 2 sides, and a drink) and a pulled pork sandwich.
Y'all. Y ' A L L. When I tell you I STOCKED UP on the BBQ sauce because I was SO NERVOUS. The restaurant had low lighting, so when I looked at that meat I couldn't see any glistening. I WAS SO SCARED. I thought I spent my good money on some dry meat! Flash forward about 10 minutes later, and I am outside enjoying myself. I pop open that to-go box and I almost had a whole heart attack just LOOKING at the drippings coming off the brisket. When I tell y'all I THREW that BBQ sauce in the trash, I mean I SLAM DUNKED it away. I picked up a piece of brisket with my bare hands, and it melted.
Now I have to let y'all in on a little secret. I do not like brisket. I KNOW. I KNOW. I KNOW. Am I even a TEXAN?? I've had to ask myself this many times in my life, but all that changed today y'all! When I tell you I gobbled that brisket up like it was the first thing I've eaten in a year, I ate that brisket UP. The first thing gone from that plate was the brisket, and I was debating going back just to get more. I didn't because I still had a lot more to try and I wasn't about to put anything to waste. Now, I don't know about y'all, but the way I like my ribs is that the meat is just barely hanging on the bone. Then, the second you bite into it, everything falls off onto your plate. The way the meat fell was like watching a movie in slow motion. I was in awe! Thankfully, they gave me three ribs so I could watch it again and again. After the ribs, I tried the sausage and the pulled pork. Both seasoned to perfection. The pulled pork was soft and I felt like I barely had to chew. 
I loved it. The sausage? Beautiful. One of my biggest pet peeves is when I go to a Spring Creek BBQ or something like and they only give me like 4 pieces of sausage. At Winners, they gave me two links sliced to perfection. I was in love. 
I've been talking, talking, talking, about the BBQ, but I know y'all are wondering about the sides as well. I only got two sides this time around, potato salad and mac and cheese. I told myself not to get more because I'm still trying for "hot girl summer", but after today, I think I can throw that mess out the window. 
The mac and cheese was ooey gooey and the pasta was perfectly cooked. Sometimes restaurants let their mac and cheese sit for a long time in the cheese sauce and it absorbs all the moisture. You can tell because the noodles get real mushy and almost mashed potato like. Not at Winner though. I almost cried when I took my first bite, it was so delicious. As for the potato salad, I think it was also good. Seemed pretty traditional to me, and I wasn't upset about that. Love me a good dependable potato salad with no frills. They went the mustard route, which I love, and I think they definitely hit the bullseye with that one. 
All in all, I was blown away by this food, and I hope that y'all get the chance to try it too. If you ever have a suggestion for me to try, send it our way, and I'll add it to my list! Until next time,
I hope you eat something delicious!


Bye, bye, birdie… but before that turn off your lights...
What I mean by this terrible word play, is  that some Texan cities are requiring businesses to turn off all unnecessary lights from 11pm-6am to protect migrating birds. I had no idea about this but during the springtime song birds migrate at night, and about one third of those singing little sky rats make their way across Texas. 
No one really knows why they're so attracted to city lights. I personally believe it's because these cloud demons can't tell the difference between a skyscraper and the sun. It's annoying, and the feathered fiends should have figured it out by now but, we gotta do what we can. I don't know if you could tell, but I'm not a huge fan of birds, this comes from a deep seeded traumatic incident involving a 7 year old me, an HEB parking lot, and a sparkly headband. But I digress....
These trauma-inducing-aviators are super important to the environment, especially during migration season. So if we can have a hand in giving the little pea-brained-bug-eating flying chickens a safe route to their destination, we'll be able to continue enjoying the natural beauty of the Great State of Texas!

We've Saved the Best for Last:
Texas Games: 2 Truths & 1 Lie
Which one of the following is false?
1. The King Ranch is larger than the State of Delaware
2. Texas has the largest state capital in the US.
3. Texas is larger than any country in Europe 
-
The Answer is.... #1 is False! The King Ranch is larger than the state of Rhode Island at 1,034 square miles, but not Delaware. 
- 
Catch Us Next Week...
Catch ya' in next week's recap. Until then, have a great rest of your week and an even better weekend.
Sincerely, Your Texas Humor Team: Hanna, Sidney, Cass, John & Amber