It's only Wednesday...
Welcome back to the Texas Connection. Grab your cup of coffee (or beer) and read this week's interesting finds from your Pals at Texas Humor. 
Want to share the newsletter with your friends? Send them
this link.

Howdy, friends! Here's your news updates for this week:
In Your Neck of the Woods: 
Weird Finds:
The Furry Friend Weeklies: 
Until next week... stay newsy my friends.



Howdy Y'all!
I am really excited this week because the restaurant I've got for you is a Texas classic. Since 1957, Del's Charcoal Burgers has been providing the Richardson, TX area with some of the best burgers you can get. They are classically delicious and should not be overlooked. Before we dive into their menu though, let's talk about the atmosphere. After all, we eat with our eyes first and the first thing we see is the restaurant. When you walk into Del's it's like a blast from the past. With decorations from decades ago and many Big Boy statues (big and small) placed around the restaurant. When you walk in you'll feel the history that is ingrained in the wood of this restaurant.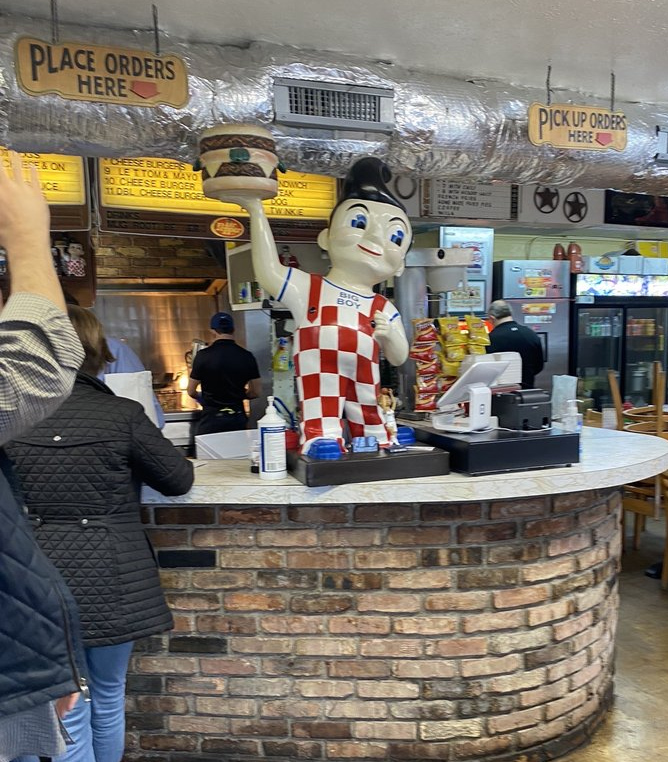 Pictured: Ordering station (Photo from Tabrina G. on Yelp)
I first discovered Del's when I was a freshman in college. I was a vegetarian, but I was craving a good burger. A couple of friends of mine and I scoured the internet and yelp looking for a restaurant that had a good veggie burger. That's how we landed at Del's! They have a delicious veggie burger that Blew. My. Mind! While their veggie burger was to die for, I was desperate to try their regular charcoal burgers, so I quit being a vegetarian (It wasn't that fun to being with anyways), and I went back to Del's and tried their bacon and cheese burger with a side of curly fries, a regular drink, and a fried apple pie. Y'all. Any problem I had washed away the second I sunk my teeth into that burger. It was insanely juicy, well seasoned, and the fresh veggies made it so refreshing. I had to go back again and again and again because it was SO GOOD. Del's is a staple in the area, and I haven't met a single person who has had a bad experience there.
Pictured: Cheeseburger and curly fries (Photo from Saxon M. on Yelp)

If you are not sure what to get, I would recommend the Del's Special. It is a classic burger, and you can't go wrong with it. You have a picky eater in the family? They've got plain burgers, nuggets, and more for kids. You want something you can't get anywhere else? Try the Texas burger! They've got something for everyone, and that's another reason why I love Del's and you should too. While you're there, you should also try their root beer! Well, until next week,
I hope you eat something delicious.

Does anyone ever wonder who picks all these "national days"?

We got National I Love Horses Day, National Whipped Cream Day, National Step In The Puddle and Splash Your Friends Day, National Bubble Wrap Appreciation Day, & of course there's National Beer Day, which just so happens to be today. 

While some of these days seem random, National Beer Day is interesting in that it's a day that had a part in the repeal of prohibition. On this day in 1933, President Roosevelt signed a beer permit act making it legal for low alcohol beverages (beer & wine) to be sold. And when I say low, I mean loooooowww. They had to be 3.2% ABV (or less I assume) which can be fairly hard to find nowadays. 

If you'd like to stay true to the day and celebrate with a low ABV Texas beer, 8th Wonder's Haterade is a beer that would almost (just a point of a percentage over) be legal to sell if this were 1933. Blue Owl's Little Boss is another solid low ABV option sitting just a bit higher at 3.8%. 

You could also celebrate by drinking the lightest version of The National Beer of Texas (it's only 2.1% ABV), or may I suggest Turning Point's Corn of Action (if you happen to be in the DFW area).

As President Roosevelt said on this day back in 1933, "I think this would be a good time for a beer."

Cheers, y'all!

Nothin' to see here. Submit ideas of what you want me to photoshop together for next week here.

We've Saved the Best for Last:
Two Truths & A Lie
(Scroll down for the answer... no peeking!)
1. The Bugs Bunny Catch Phrase "What's Up Doc?" Originated in Houston
2. The designer of the Texas Flag is Unknown
3. The Fastest Road in the United States is in Austin
The wrong answer is.... #1! Bugs Bunny's catch phrase actually originated in Dallas!
Catch Us Next Week...
Catch ya' in next week's recap. Until then, have a great rest of your week and an even better weekend.
Sincerely,
 

Your Texas Humor Team
: Hanna, Sidney, Cass, John & Amber