Howdy and Happy Holidays!
We're Full of Beer... I Mean... Cheer
If you haven't purchased liquor for Santa yet... YOU'RE RUNNING OUT OF TIME. And I say run, do not walk to the liquor store. The good ones are running out and Santa doesn't like the cheap tequila.
This is ANOTHER ~friendly~ reminder that if you're planning on bringing Pea Casserole... you still have time to make it to the grocery store. Just sayin'.
Need a last minute gift? White elephant with the family? Need it by tomorrow? look no further.
Looking for games? Scroll down for a game of Texas Humor Hangman!
-
WOA, Slow Your Scroll... We're Getting to the Good Stuff.
Here's a curated list of this weeks Funny Texas News

.
Picked just for you.
Breaking News:

 

Dog Shoots Owner

 

in the Leg in Plano, TX. Word around the street is he wasn't a fan of the new doggie diet trend...
If you enjoy King of the Hill and Christmas... you'll love

 

this combo. 
If you haven't seen this Chicken who travels

 

all over the US. You have to open this link. He's arguably gone to more Texas Landmarks than most Texans.
This

 

Map

 

shows the most watched Christmas Movie by state... Anyone else surprised we didn't win Lampoon's Christmas Vacation?! Just me? Ok.
No store does more than my

 

HEB. Who just won

 

Grocer of the Year

 

for adaptability amid the Coronavirus pandemic.
We're

 

HEB's biggest fans, but WHO is behind the Strawberry tamales? I just wanna talk.
The

 

Smallest Target in the World

 

was Torn Down :/ (Marfa, TX)
If you needed a

 

Texas Deer Mount... Look no further
We're watching this to stay on

 

Texas TikTok
These Texan Town Names

 

Just Take the Cake
This tribute to their professor has me crying in the club... I mean... office
Talk about SATISFYING. If you're not on

 

Hat Shaping TikTok... you should be.
This couple decided to

 

make their own Dr. Pepper

 

and we're not to sure about this... seems like an imposter if I've ever seen one. Let's leave it to the pro's.
Just another way Texas > California when the Rose Bowl got moved to AT&T Stadium in Dallas, Texas. If they don't rename it and give Texas Credit... you'll see a twitter feud. Just wait.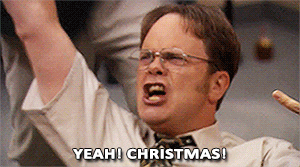 The Texmas spirit is spreading across Texas!
Checkout these textra festive trees by our fan @emperez25
We've Saved the Best For Last
TEXAS HANGMAN.
Download it to Print or Play online here.
HINT: TRENDING SAYING- WHAT INGREDIENT WE'RE NOT INCLUDING THIS HOLIDAY SEASON
If you missed the Texas Crossword Puzzle, no worries! Find it here.
T'was The Night Before Texmas 
 'Twas the night before Texmas, when all through the land
Not a thing was stirring, not even the Rio Grande
The stockings were hung by the silo with care,
In hopes that St. Nicholas soon would be there.
The children were nestled all snug in their beds, 
While versions of cowboys danced in their heads.
And Mama in her boots, and I was quite a sight,
But had just settled our brains for a long Texas night.
When out of the tin roof there arose such a clatter
I sprang from my bed to see what was the matter
Away to the window I flew like a duck
Tore open the shutter, and looked for a buck
The moon on the breast of the new-fallen cotton
Gave the luster of midday to the unforgotten, 
When, what to my wondering eyes should appear, 
But a miniature sleigh and eight tiny reindeer
With a little old driver, so lively and quick, 
I knew in a moment it must be St. Nick, 
More rapid than bobcats, his coursers they came,
And he whistled and shouted and they called him by name:
Now Strait! Now Creager!
Now, Willie and Nelson!
On, Johnson! On Jones!
On, Cory and Morrow!
To the top of the barn!
To the top of the silo!
Now dash away! Dash away!
Dash away all!
... to be continued ...
-
Catch Us Next Week...
Catch ya' in next week's recap. Until then, have a great ~holiday~ week and an even better weekend.