Howdy & Happy Wednesday, Folks
As always, welcome back to the Texas Connection. Grab your coffee and read this week's interesting finds from your Pals at Texas Humor. 
Want to share the newsletter with your friends? Send them this link.

Howdy, friends! Here's your news updates for this week:
In Your Neck of the Woods: 
Weird Finds:
If you missed it, Beyoncé released a Texas-inspired clothing collection (feat. both mens & womens clothing and shoes!)

McDonalds competing with Krispy Kreme? No way.

Friendly PSA: You can now be fined for releasing baloons in Galveston
The Furry Friend Weeklies: 
Until next week... stay newsy my friends.

It's a known fact that everything is bigger in Texas. So it should come to no surprise that you can find the World's – yes I said THE World's – largest boots right here in the Lone Star State.
Today, you'll find these Texas sized boots right outside San Antonio's North Star Mall…  a 35 foot pair of faux Ostrich and calfskin boots to be exact. Created by Austin's very own Bob "Daddy-O" Wade in 1979, the boots were originally constructed to sit outside just a few blocks from the White House. 
Now you might ask, "why would they want a giant boot sculpture right near the White House?" First off, why wouldn't they? Second, it appears they gave no specifications when they asked Bob to create the sculpture. Inspired by the rise of "Texas Chic", his first thought in D.C. was of the Texas politicians near the time, such as LBJ, known for wearing boots and his open road Stetson. And with the narrow space he was dealt, the boots seemed to be the perfect fit for the job.
It didn't take long before Texas called them home, the boots were near completion when the decision was made to take them down to Texas. After a 3 truck operation, an overpass debacle, and a few other roadblocks, the boots found their official home in San Antonio while also leading Bob to write a song titled "Too long, too wide, too high."
In 2015, much to his surprise, Bob was officially the
Guinness World Record
holder for the World's Largest Cowboy Boot sculpture. He even claimed at the time of completion that they could hold up to 300,000 gallons of beer! Just goes to prove that yes, everything's bigger in Texas. 
Sadly, Bob Wade passed away in 2019, shortly before the boots 40th Anniversary at North Star Mall. If you'd love to read more about Bob "Daddy-O" Wade here's an
appreciation piece by Texas Monthly
for you to check out before you head into work for the day.


Howdy Y'all!
This week we are going back to savory with sliders! I had been skipping out on Little Beast Slider Co in Austin, TX for quite some time, and I think it's because they moved to a new location that is more downtown. I have a fear of never finding parking, but I got over it! I went during lunch time and I found parking directly across the street at the meter. There were also a couple of other metered parking spots around too, so I wouldn't worry too much about it. Little Beast Slider Co is a food truck that is living it's best food truck life next to the Key Bar on W 6th street. The food truck is out in the open, but there is plenty of covered seating available to get out of the heat.
I don't know why I didn't go to Little Beast sooner though y'all. I ordered three sliders, one with chicken, and the other two were the regular hamburger sliders. Let's talk about the hamburger ones first. Not only were they juicy, but they were well seasoned! One thing I don't like about a lot of places is that they don't season their patties enough, but at Little Beast, there is so much flavour in the patty alone. And, even though they are sliders, the three sliders I had filled me up to the brim, and I want to say that's because of the deliciously fluffy buns that they used. 
While the buns were on the thicker slide, they didn't overpower or cover up the quality toppings on the slider. I think it was a great ratio of bread to ingredients, while also keeping me full. Speaking of toppings, I added pickles,tomato, cheese, lettuce, and grilled onions to my tiny burgers. I wanted to keep it simple to get the full flavor of everything, but they have more toppings you can add, and the more you add the fuller you will be! 
Okay, I want to talk about the chicken slider now. Y'all. Y ' A L L. When I went up to the food truck I ordered what I thought would be good, and then I asked the gentleman working the truck what he would recommend, and he recommended a chicken slider. I was hesitant because I wasn't looking to have a chick-fil-a chicken mini for lunch, but I went with his recommendation anyways because he seemed very confident. The frickin chicken slider is Where. It. Is. AT! Get the chicken slider. Get the chicken slider. GET THE CHICKEN SLIDER!
The chicken is so wonderfully breaded and seasoned to perfection. The breading was crispy and added a nice change of texture to the slider. I did the same toppings minus the cheese, and it paired so well with the pickles and tomato. The acidity of the pickle and the juiciness of the chicken complimented each other while the tomato added a nice sweetness to the whole affair. If you get anything at Little Beast Slider Co, you need to get the chicken slider with all your favorite toppings! In fact, when I go back, that is exactly what I will be getting. 
I hope y'all have the chance to try them out, but until next week, I hope you eat something delicious!


5 endangered species in Texas that I would like to keep around… because they look...so cute…
Texas Kangaroo Rat
I mean just look at this little dude! They're super small and are only found along a specific area of the Red River. Due to their boujee real estate needs they can't really go anywhere else, so as their habitats get disturbed they go down in population.
- 
2. Attawater's prairie chicken
Orange you glad we have these in Texas? Those little oranges they have in their cheeks are actually to push out air to create a boom sound that can be heard across the tall grasses of the coastal prairie. Once again habitat destruction is the reason that these guys are endangered, only made worse by Hurricane Harvey. Taking the once millions of prairie chickens to less than 100. 
-
3. Ocelots
They may look like a cute version of Smeagol from Lord of the Rings, but these guys are "precious". This medium sized wild cat that just enjoys doing fun cat things in trees during the middle of the night just like my house cat. But once again due to habitat destruction, and poaching these whiskered misfits are highly endangered.  
-
4. Whooping Crane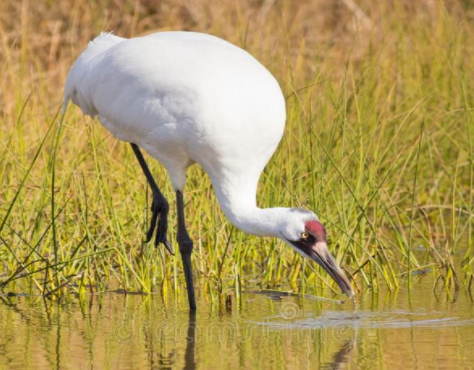 Or as I like to call them … the "Texas Flamingo" are some long legged dumb-dumbs, and i can relate to that. Being the tallest bird in North America doesn't help it survive habitat loss, or protect it from overpopulated bobcats. 
-
5. San Marcos Salamander
I DIDN'T KNOW TEXAS HAD ITS OWN AXOLOTL! Why did nobody tell me that these sweet freshwater bois were in trouble??!?! Reduced water flow from the San Marcos river to the runoff of Spring River is causing these adorable little water noodles to decrease in population. They're only found in Spring River, so this is especially troubling.   

We've Saved the Best for Last:
Texas Trivia!
Play it here.
--------------------------------------------------------------------------
Catch Us Next Week...
Catch ya' in next week's recap. Until then, have a great rest of your week and an even better weekend.
Sincerely,
 

Your Texas Humor Team
: Hanna, Sidney, Cass, John & Amber