You know it's Summer when you wake up to 85 degree heat...
As always, welcome back to the Texas Connection. Grab your coffee and read this week's interesting finds from your Pals at Texas Humor. 
Want to share the newsletter with your friends? Send them
this link.

Howdy, friends! Here's your news updates for this week:
In Your Neck of the Woods: 
Weird Finds:
The Furry Friend Weeklies: 
Until next week... stay newsy my friends.

It's finally here, y'all. It's FIESTA time in San Antonio!
 It's only been 780 days since the last Fiesta, but who's counting? One of my favorite parts about growing up in San Antonio was getting to join in on this almost 140 year tradition.
If you're asking, "what the heck is Fiesta?," I'm here to tell you. What originated as a parade to honor those who fought at the Alamo and the Battle of San Jacinto, has transformed into a celebration of the city itself, and all the culture it holds in the state of Texas. Full of parades, events, good food, and a heck of a lot of Fiesta Medal, you're sure to find quite the Fiesta down in San Antonio.
And while typically, you'll be joining in on the fun during a nice Texas spring, this year's event has found itself happening from June 17th - June 29th (for obvious reasons). – And while this year may look a little different, there's still a lot to expect, so I thought I'd share a few reasons why I love Fiesta!
The fashion – You won't find a parade without the ornate outfits from Miss Fiesta San Antonio herself and the accompanying  "kings and queens" of Fiesta. Just don't forget to ask them to "show your shoes!"

The culture – There's no better showcase, of all San Antonio has to offer, and all the people that make this city special. You'll be sure to learn A LOT about my favorite Texas city.

The food – I mean you can't go wrong with Chicken on a Stick

And the fact that you'll be able to find something to do at ANY HOUR of the day, it's a never ending fiesta at FIESTA.
So head on over, if you don't already live in the Alamo city, and get ready for a great time. You can find a rundown of all the events still going on at their site HERE!And if you're one of the many (like myself) who loves to collect Fiesta Medals each year, we've got good news for you! Grab our first ever Texas Humor Fiesta Medal right at TxHumor.com!


Howdy Y'all! 
It's been a second, but how are y'all doing? I'm having a great day because I get to tell y'all about pie. Now, I love pie and the only thing I love more than a pie shop that sells sweet pies is a pie shop that sells sweet and savory pies! That's why I'm sharing Tiny Pies with y'all today. 
The first time I tried Tiny Pies was a couple of days ago. I went with a friend cause we were craving sweets, and it was just around the corner. The shop itself is quite small and there isn't any seating except for a bench out front, but it is for sure one of the cutest shops I've been to. They've got Tiny Pies mugs, shirts, aprons and more along with their delicious pies.
I know y'all aren't here for merch, so let me tell you about their pies. So I went a little crazy and got a lot of pies, but they're tiny! First I got the chicken pot pie. You have the option of having it heated up at the store or taking it home and baking it yourself. I had mine heated up in the store and it took about 5 to 10 minutes to heat in their oven. It was piping hot and smelled AMAZING. I was so excited to eat it that I almost forgot to take a picture, but don't worry, I got them.
Look at the crust! Y'all it was so flakey that there were flakes wafting in the wind. It was also super buttery and crispy. The crust alone was delicious, and I could probably eat just the crust if I really wanted to, but why would I eat just the crust when I could have the filling too! The chicken pot pie was sooo good. Peppery, savory, full of chunks of chicken and veggies. It looks so small, but it was super filling! I actually got 6 sweet pies because I thought they wouldn't be filling, but holy crap I could only eat the pot pie and one chocolate cream pie. But that's just more pie for later!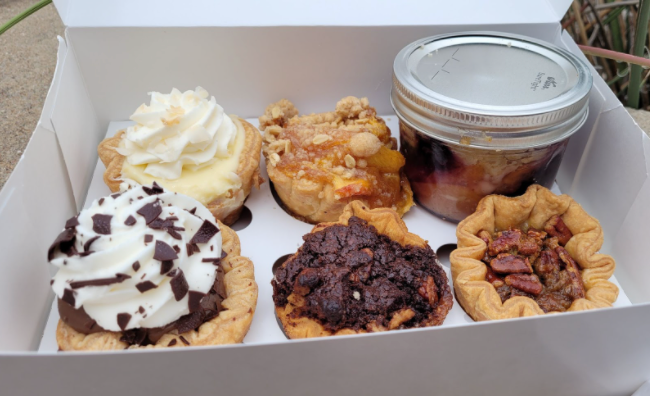 As for the sweet pies, Y'ALL. SO FRICKEN DELICIOUS. The chocolate cream pie was smooth and creamy and not too sweet either. The crust on the tiny pies was also a little sweet, but still buttery enough to compliment the sweetness of the pie. 
Same situation with the coconut cream pie. So smooth and it had little bits of toasted coconut in the mix as well. Overall, these pies definitely live up to their slogan "small pies, big taste". They've got all your favorite pie flavors including some of their own originals. I would highly recommend y'all try them out because you will not regret it. Until next time,
I hope you eat something delicious!

We've Saved the Best for Last:
Catch Us Next Week...
Catch ya' in next week's recap. Until then, have a great rest of your week and an even better weekend.
Sincerely,
 

Your Texas Humor Team
: Hanna, Sidney, Cass, John & Amber