Howdy & Happy Wednesday!
It's basically Summer Weather and we're ready for the LAKE! Texas Humor is giving away FREE Texas Flag Air Fresheners this week with orders over $18.36 to kick off this summer feeling.
As always, welcome back to the Texas Connection. Grab your cup of coffee (or whatever suits your fancy) and read this week's interesting finds from your Pals at Texas Humor. 
Want to share the newsletter with your friends? Send them this link.

Howdy, friends! Here's your news updates for this week:
In Your Neck of the Woods: 
Weird Finds:
The Furry Friend Weeklies: 
Until next week... stay newsy my friends.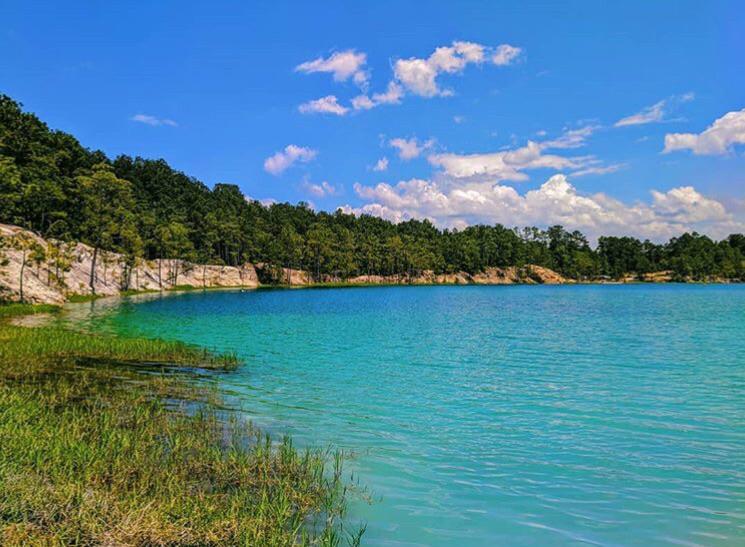 May is just around the corner, and so are the days of temperatures that'll make you sweat before you can even say "It's hotter'n blue blazes out here!" – And there's no better way to beat that Texas heat than to find your nearest source of water to stay cool. So that's exactly what I've got for you this morning! 
While I've never made the journey to this area – the Blue Lagoon (just north of Huntsville) seemed too good to pass up.
You'll find quite a few great watering holes around the state, but many don't seem to match the crystal clear water you'll find in the Blue Lagoon.  It's Texas' very own tropical "hidden" gem.
And if diving is your thing, you're in luck, the spectacular water conditions attract many scuba divers, and they even offer classes and training if it's something you're looking to get into. But if diving is not your thing, no worries, there are designated times for anyone just looking to relax and enjoy this tropical paradise. Just make sure you plan ahead, because it's first come first serve, and you won't want to miss a day out here. And if you need some extra Texan attire, we've got the perfect swimsuits for you too!
Have any favorite hidden gems you want me to check out, email them our way!


Howdy y'all!
This week I want to share with y'all a favorite of Richardson, TX. Sweet Firefly is the place to go for a sweet treat. They mainly serve ice cream in deliciously unique flavors, but they also have snow cones, ice cream, sandwiches and much more. Since the beginning of the pandemic, they have renovated their store so that you can no longer go inside, but they have this adorable order and pick up station. With small areas to sit outside and a large patio area across the street, this is the perfect place to grab an ice cream cone.
I first discovered Sweet Firefly my freshman year of college. I was craving something sweet, but I didn't want to go to Braums because the lines are always long and it's only so good. A friend of mine mentioned Sweet Firefly, and we went! I was so nervous at first because of their sizes and flavors, but the attendants who helped me were so sweet and let me taste test everything to find what I liked. While this sounds like any other ice cream parlor, not every ice cream parlor has Sweet Firefly's flavors
My favorite flavor combination is lavender honey and lemon vanilla! One of the things I love about their ice cream is that it is so creamy. The lemon vanilla is incredibly smooth and isn't too tart. When I first tried the lemon vanilla ice cream I was SHOCKED! I was expecting it to be tart and sour, but it was delicate and sweet. However, if you are looking for something a little bit more tart, they do have a lemon icebox pie flavor that will satisfy that sweet and sour tooth. It has swirls of graham cracker crust in it  and is to die for. Sweet Firefly also offers a raspberry sorbet that is also a bit tangy and delicious! 
Something that really sets Sweet Firefly apart from other ice cream parlors for me is that they have vegan options. While I'm not vegan, and I never will be, I would 100% eat Sweet Firefly's vegan ice cream for breakfast lunch and dinner. They have a lovely selection of vegan options, and I tried their dark chocolate oreo and it was amazing! It was somehow just as creamy as their regular ice cream and I was blown away! 
Other than their delicious ice cream, Sweet Firefly has ice cream sandwiches, ice cream cakes, and candy! I got some gummy bears and some cola gummies this time around, but they also have chocolates, gums, and other gummies for everyone.
Sweet Firefly is the sweetest place for some delicious ice cream, and I hope that y'all can try it some time! Visit to get the full experience and enjoy some lovely ice cream. Until next week,
I hope you eat something delicious!


The Spookiest road in all of Texas....
...and no, it's not I-35
Ok so here's the deal, I went to college at Sam Houston State located in Huntsville, Texas. Yes, there is the giant prison that was only a head turn away from the dorms I lived in, and yes, it's super disconcerting. But I'm not here to talk about that, (even though a lot of infamous people spent some time down the road from a Subway that I frequented regularly!). 
I'm here to tell you guys about "Demons Road" aka Bowden Road aka a dirt road by an old cemetery. The lore around this place is something that every freshman learns and tries for themselves if they're feelin frisky. 
Witnesses claim that if you venture to the cemetery by this road and stay the night, one of the concrete angels that adorn a gravestone will LITERALLY WEEPING ANGELS YOU! (If you don't know the backstory to those guys, they're creepy statues of angels that move closer to you everytime you look away from them, until it's too late for you to run. So you know...that's fun…) And if that's not enough for you to boot scootin  boogie the hell outta there, you might just get a little tippity tap from one of the tortured souls that are cursed to spend an eternity there! 
Now I know you're probably like, "Amber, what about the road, we came here to learn about the road." And to that I say… ight.
The road itself is a very aesthetically spooky place but if you venture there at night, you're in for a horrible surprise. People have said that their cars will unexpectedly shut down, or worse you'll look in your rearview mirror and catch some creepy looking girlie in the back seat! Like no thanks! THIS IS NOT AN UBER GET OUT! 
I do have my own experience from going down this road, and let me tell ya it sucked. Me and a couple of freshman friends of mine decided to brave the road one dark night in 2016. There were a couple of other groups there trying the exact things we were, so that just goes to show you there's really nothing to do in Huntsville. So there we are chillin on demons road, we decided to shut off the car and get out, because we were 18, dumb, and thought we were going to live forever. 
 So far nothing is happening we're getting bored and destroyed by mosquitoes when suddenly, we hear footsteps in the gravel behind us… we turn around immediately and are confronted with literally everyone's worst nightmare.
    Quick reminder, this is in the summer of 2016, and what was the weird popular event that you remember from that time period? 
….let me jog your memory, people were DRESSING UP LIKE CLOWNS AND SCARING PEOPLE IN THE WOODS!!!!!!
-
Yeah, little 18 year old me is in the middle of a road called "Demons Road", and here I am, only a few yards away from some dude in a clown costume who's slowly turning his HEAD TO THE SIDE!!!!  Worse comes to worst and he walks towards us!
 Safe to say we Scooby-Dooed it into the car, and got out of there immediately. So i guess the moral here is, don't go to this road, because if the demons, weeping angels, or grabby ghost don't get ya, some creepy dude in a clown costume will. 

Artist rendition of Demon Road: Viewer Discretion is advised

Catch Us Next Week...
Catch ya' in next week's recap. Until then, have a great rest of your week and an even better weekend.
Sincerely, Your Texas Humor Team: Hanna, Sidney, Cass, John & Amber